These monster burgers for Halloween are a super cute way to turn a regular burger into a monster smash. Each burger is assembled to look like a monster without needing any tricks. It's sure to be a hit with kids and adults alike. They can easily be made gluten-free by using a gluten-free bun.
My favorite holiday is Halloween because I can make fun, creative recipes without the need for any food coloring or super-processed stuff.
These burgers are for anyone who loves to put a little fun on the plate. And they're great, even if it's not Halloween. They'd be perfect for a kid's party any time of year.
You can cook the patties however you'd like: on the grill, in a skillet, and even in the air fryer. If you prefer turkey, these Air Fryer Turkey Burgers work great in place of beef patties.
And these Halloween burgers are great for getting the kids involved in making dinner! They can make the eyeballs, cut the cheese slices, and then assemble the burgers themselves.
I have step-by-step photos below of how to assemble them, so they don't even need to be able to read to assemble their little monster. 🙂
Beef patties
To make the beef patties, I used 80/20 ground beef and formed four 5-oz (140-gram) burger patties. But you should make them the right size for your kids and burger buns.
The patties should be 1" wider than your buns because they will shrink slightly when you cook them.
Make sure to press your thumb into the middle of each patty to prevent them from shrinking too much or plumping up like meatballs while cooking.
Just salt and pepper each side and start cooking. I like to use smoked hickory sea salt, but you can use whatever you'd like.
Tips
This recipe yields 4 burgers, but you can double or triple the recipe and adjust the amount according to your needs.
Don't press the patties down while cooking. You'll press out all the fat and juice, and you'll have dry burgers.
Flip the burger patties only once to get a good sear on both sides.
Let the burgers rest before serving; this allows the juices to distribute through the meat.
Remember, the patties will continue to cook when removed from heat, so remove them 5 degrees before they reach the desired doneness.
Don't add cheese while the burgers are hot; it will melt, and you won't get the sharp fangs needed for the monster faces.
You can toast or grill your burger buns or use them straight out of the package.
Vegetarians can use veggie burger patties instead of beef.
How long does it take to cook the patties?
It's best to cook to temperature rather than time. Any time listed is a general estimate.
Ground beef should reach an internal temperature of 165 °F (74 °C).
You can remove the patties from the heat when they reach 160 °F (71 °C) and let the patties rest. They will continue to cook while resting, and when they reach 165 °F, they're ready to serve.
For medium-cooked beef patties, the internal temp should reach 145°F (63 °C). This will leave a little pink in the middle. But note that the USDA recommends cooking ground beef to 160 °F (71 °C) to kill harmful bacteria.
How to cook the burger patties (4 methods)
You can cook them however you'd like.
Pan-fry — heat the skillet over medium-high heat. Add a little oil to prevent burgers from sticking. Cook for 5 to 6 minutes on each side until cooked to the desired doneness.
Grill — at a temp of 400 °F (204 °C), place the patties over direct heat and sear for 5 to 6 minutes. Flip and grill for another 4 to 5 minutes until the internal temperature reaches 160°F (71 °C). Remove from the heat and let them rest until they reach 165 °F (74 °C). Don't overcrowd the grill. The patties won't cook evenly if you cook too many burgers at once.
​​Air Fry — set the air fryer at 375 °F (190 °C) and place patties in the basket, leaving space around each pattie in a single layer. Flip the burgers after 6 minutes and cook a few more minutes until the burgers reach an internal temp of 160°F. Remove the patties and let them rest until they reach 165 °F (74 °C).
Smoke on the grill — Smoked Burgers will definitely take longer than the other methods, but the resulting flavor is incredible.
Assembling monster faces
I used bocconcini mozzarella balls, which are a little over 1-ounce or 28 grams each, and medium black olives stacked on a toothpick for the monster eyes and secured them on the top bun.
You can use any hamburger bun you'd like. I used brioche buns.
My photographer went to several stores and Panera, searching for the buns that weren't smushed. She went to Safeway twice and caught them when they were restocking the bread aisle. She was able to get these lovely brioche buns from La Boulangère.
You add a piece of lettuce on top of the bottom bun and place the cooked patty on top of that. Then add your tomato slices and a pickle for the tongue.
Now, take some cheddar cheese and cut out triangles to create the monster's teeth.
You can even add Homemade Ketchup if you'd like some gory monsters. Here's how I made them.
And now the photos. Because who can process such a quick GIF? 😆
You can, of course, assemble the burgers in any order you'd like. This is just the order that I thought made the most sense.
Want onions? Go ahead and add them! Want burger sauce? Add that, too. It's your burger, so fill it up with whatever you want. 🙂
What to serve with these burgers
This Halloween Fruit Salad would be my top pick! It's fun, healthy, and perfect for little ones.
This Halloween Mac and Cheese is also a super fun choice. Mac and cheese isn't usually served with burgers, but it's Halloween. Time for a treat. 😉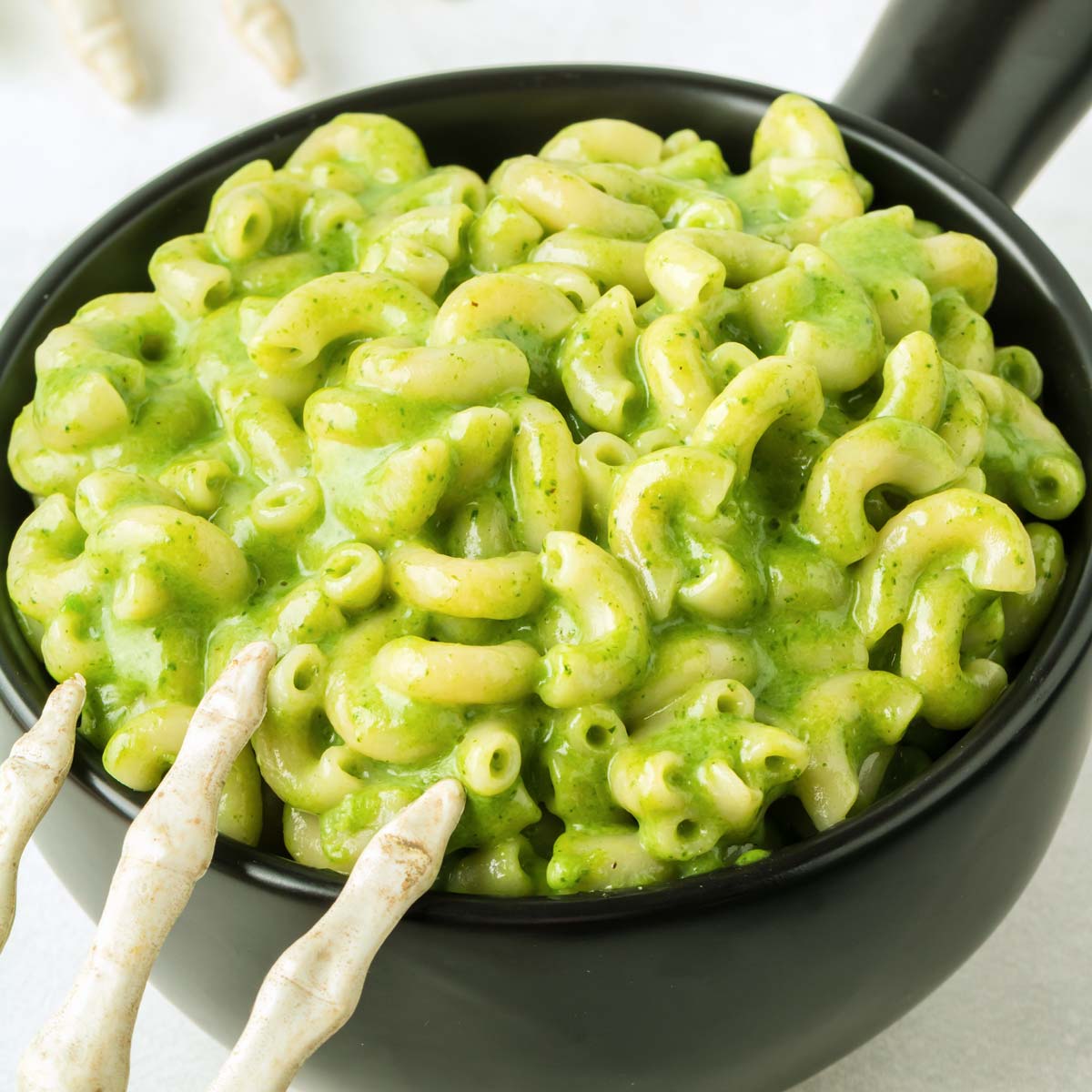 More Halloween sweets and drinks
I hope you'll enjoy these monster burgers for Halloween. We'd love to see them if you make them. Simply post to social media and tag #easywholesome so we can be sure to see them. Thank you! 🙂
Ingredients
20

oz

ground beef

80/20 is best - this will allow for 5 oz per burger

1-2

teaspoons

oil

8

medium black olives

8

mini mozzarella balls

bocconcini, a little over 1-ounce or 28 grams each, patted dry with paper towels

8

tomato slices

from about 2 tomatoes

4

slices

orange cheddar

4

pieces

of green lettuce

rinsed and patted dry with paper towels

4

pickle slices

4

hamburger buns (use gluten-free buns if you're GF)
Instructions
Form four 5-oz hamburger patties. They should be 1" wider than your buns.

Press your thumb into the middle of each patty. This is done to prevent them from plumping up like meatballs during cooking.

Salt and pepper the outsides.

Preheat a skillet over medium heat. Add a small bit of oil and put in the patties.

Cook until done, only flipping once. How long that takes depends on how thick your patties are and how well done you want. The USDA recommends that ground beef be cooked to an internal temperature of 160 °F, resulting in a well-done burger with no pink in the center.

While they're frying, prepare the monster face.

Cut the olives in half and stick the half with the "star" face up on top of a mini mozzarella ball. Secure them together using a toothpick.

Cut 8 slices from the tomatoes. They shouldn't be puny and floppy, but not super thick, either. Place them on a paper towel and pat dry before placing on the burger.

Cut out triangles from the cheese slice to create the teeth. Don't cut away too much - you want the teeth to hang out from the bun.

Assemble the burgers

Once the burgers have cooled quite a bit (you don't want to melt the cheese), place a piece of lettuce on the button bun half. Then add the burger patty, 2 tomato slices next to each other, pickle in the middle to create the tongue, cut up cheese slice, top bun piece.

Stick 2 assembled mozzarella/olive eyes on each bun with the help of the toothpick.

Serve!
Notes
If you don't want to use cheddar, you can use orange cheese you'd like. It shouldn't be the super firm kind that breaks apart when bent slightly - it should be able to flop over a bit, and it should be large enough to cover the size of your burger bun).
La Boulangère Brioche burger buns from Safeway were used in the photos. They were the prettiest buns my photographer could find. When shopping, look for buns that aren't smushed for the prettiest burger monsters.